Posted by : Unknown
Saturday, 24 December 2011

January choices for the LeVar's Rainbow Book Club.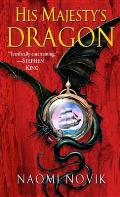 His Majesty's Dragon, Naomi Novik

In this delightful first novel, the opening salvo of a trilogy, Novik seamlessly blends fantasy into the history of the Napoleonic wars. Here be dragons, beasts that can speak and reason, bred for strength and speed and used for aerial support in battle. Each nation has its own breeds, but none are so jealously guarded as the mysterious dragons of China. Veteran Capt. Will Laurence of the British Navy is therefore taken aback after his crew captures an egg from a French ship and it hatches a Chinese dragon, which Laurence names Temeraire. When Temeraire bonds with the captain, the two leave the navy to sign on with His Majesty's sadly understaffed Aerial Corps, which takes on the French in sprawling, detailed battles that Novik renders with admirable attention to 19th-century military tactics. Though the dragons they encounter are often more fully fleshed-out than the stereotypical human characters, the author's palpable love for her subject and a story rich with international, interpersonal and internal struggles more than compensate.


Robopocalypse, Daniel H. Wilson

Daniel H. Wilson, the author of this book, has a doctorate in robotics from prestigious Carnegie Mellon and his writing credits include the nonfiction How to Survive A Robot Uprising and How to Build a Robot Army. That knowledge alone should activate your senses as you enter Robopocalypse, a realm where robots run free and humans flee skittering in many directions. Told with the unfolding menace of The Invasion of the Body Snatchers, this novel will keep you up late and your computer unplugged.


The Wood Wife, Terri Windling

Winner of five World Fantasy Awards for her editing, Windling (coeditor with Ellen Datlow of the annual Year's Best Fantasy & Horror anthologies) now shows off her writing skills with this strong first novel, a fantasy. When writer Maggie Black learns that her friend and mentor, poet Davis Cooper, has died and left her his house in the arid hills outside Tucson, Ariz., she travels there intending to write his biography and to investigate the mysterious circumstances of his death. Every detail she uncovers about Cooper's past, however, only seems to raise more questions. When Maggie comes home one evening to find that the house has been ransacked, it becomes clear that she's not the only one looking for answers. To solve the puzzle of Cooper's life and death, Maggie will have to outwit the Trickster and the other powerful quasi-human creatures that roam the desert hills and feed on creative energy. Although at times Windling's humans come off as too sensitive and artistic, her Native American spirits comprise an intriguing blend of human folklore and alien emotion. Her debut novel is richly imaginative, a captivating mix of traditional fantasy and magical realism.