Posted by : Unknown
Saturday, 26 November 2011
December choices for the LeVar's Rainbow Book Club.


Embassytown, China Miéville

Big idea: Alien life forms cohabitate a distant planet with human colonists, including Avice Benner Cho. She straddles both worlds from a unique perspective: Unable to speak the bizarre language used by the Ariekei, she functions as a "living figure of speech" for the aliens.

Sample text: "There was a Hostnest in fine alien colors tethered by creaking ropes of muscle to a stockade, that in some affectation the Hosts had fashioned like one of our weaker fences. I'd creep up on it while my friends whistled from the crossroads ... [past] breezes sculpted with nanotech particle-machines and consummate atmosphere artistry."


Bloodshot 1: Cherie Priest
Raylene Pendle (AKA Cheshire Red), a vampire and world-renowned thief, doesn't usually hang with her own kind. She's too busy stealing priceless art and rare jewels. But when the infuriatingly charming Ian Stott asks for help, Raylene finds him impossible to resist - even though Ian doesn't want precious artifacts. He wants her to retrieve missing government files: documents that deal with the secret biological experiments that left Ian blind. What Raylene doesn't bargain for is a case that takes her from the frozen outskirts of Minneapolis to the mean streets of Atlanta. And with a psychotic, power-hungry, scientist on her trail, a kick-ass drag queen on her side, and Men in Black popping up at the most inconvenient moments, the case proves to be one hell of a ride.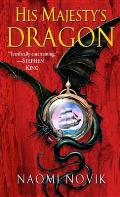 His Majesty's Dragon, Naomi Novik

In this delightful first novel, the opening salvo of a trilogy, Novik seamlessly blends fantasy into the history of the Napoleonic wars. Here be dragons, beasts that can speak and reason, bred for strength and speed and used for aerial support in battle. Each nation has its own breeds, but none are so jealously guarded as the mysterious dragons of China. Veteran Capt. Will Laurence of the British Navy is therefore taken aback after his crew captures an egg from a French ship and it hatches a Chinese dragon, which Laurence names Temeraire. When Temeraire bonds with the captain, the two leave the navy to sign on with His Majesty's sadly understaffed Aerial Corps, which takes on the French in sprawling, detailed battles that Novik renders with admirable attention to 19th-century military tactics. Though the dragons they encounter are often more fully fleshed-out than the stereotypical human characters, the author's palpable love for her subject and a story rich with international, interpersonal and internal struggles more than compensate.


Golden Witchbreed, Mary Gentle

This is the story of Lynne de Lisle Christie, the first of Earth's envoys to Oerthe, a primitive world on a planet half a galaxy from Earth. Presenting herself at the court of the Crown of the South, Christie's life quickly teeters into the hands of those motivated by beliefs, assumptions and thoughts alien and unknown. Factions in the Southland would rather that she were dead, or defamed never to return. Others feel that now that Earth has visited Oerthe, there is no way that the clock can be turned back. But all are quite wary of Earth and its technologies, and a current of hostility runs deep. As events unfold, at one point Christie finds herself among the ruins of Oerthes anchient civilization and realizes that Earth has made a very, very large mistake.


Robopocalypse, Daniel H. Wilson

Daniel H. Wilson, the author of this book, has a doctorate in robotics from prestigious Carnegie Mellon and his writing credits include the nonfiction How to Survive A Robot Uprising and How to Build a Robot Army. That knowledge alone should activate your senses as you enter Robopocalypse, a realm where robots run free and humans flee skittering in many directions. Told with the unfolding menace of The Invasion of the Body Snatchers, this novel will keep you up late and your computer unplugged.


Snow Crash
From the opening line of his breakthrough cyberpunk novel Snow Crash, Neal Stephenson plunges the reader into a not-too-distant future. It is a world where the Mafia controls pizza delivery, the United States exists as a patchwork of corporate-franchise city-states, and the Internet--incarnate as the Metaverse--looks something like last year's hype would lead you to believe it should. Enter Hiro Protagonist--hacker, samurai swordsman, and pizza-delivery driver. When his best friend fries his brain on a new designer drug called Snow Crash and his beautiful, brainy ex-girlfriend asks for his help, what's a guy with a name like that to do? He rushes to the rescue. A breakneck-paced 21st-century novel, Snow Crash interweaves everything from Sumerian myth to visions of a postmodern civilization on the brink of collapse. Faster than the speed of television and a whole lot more fun, Snow Crash is the portrayal of a future that is bizarre enough to be plausible.



The Wood Wife, Terri Windling

Winner of five World Fantasy Awards for her editing, Windling (coeditor with Ellen Datlow of the annual Year's Best Fantasy & Horror anthologies) now shows off her writing skills with this strong first novel, a fantasy. When writer Maggie Black learns that her friend and mentor, poet Davis Cooper, has died and left her his house in the arid hills outside Tucson, Ariz., she travels there intending to write his biography and to investigate the mysterious circumstances of his death. Every detail she uncovers about Cooper's past, however, only seems to raise more questions. When Maggie comes home one evening to find that the house has been ransacked, it becomes clear that she's not the only one looking for answers. To solve the puzzle of Cooper's life and death, Maggie will have to outwit the Trickster and the other powerful quasi-human creatures that roam the desert hills and feed on creative energy. Although at times Windling's humans come off as too sensitive and artistic, her Native American spirits comprise an intriguing blend of human folklore and alien emotion. Her debut novel is richly imaginative, a captivating mix of traditional fantasy and magical realism.


Ready Player One
It's the year 2044, and the real world is an ugly place.

Like most of humanity, Wade Watts escapes his grim surroundings by spending his waking hours jacked into the OASIS, a sprawling virtual utopia that lets you be anything you want to be, a place where you can live and play and fall in love on any of ten thousand planets.

And like most of humanity, Wade dreams of being the one to discover the ultimate lottery ticket that lies concealed within this virtual world. For somewhere inside this giant networked playground, OASIS creator James Halliday has hidden a series of fiendish puzzles that will yield massive fortune—and remarkable power—to whoever can unlock them.

For years, millions have struggled fruitlessly to attain this prize, knowing only that Halliday's riddles are based in the pop culture he loved—that of the late twentieth century. And for years, millions have found in this quest another means of escape, retreating into happy, obsessive study of Halliday's icons. Like many of his contemporaries, Wade is as comfortable debating the finer points of John Hughes's oeuvre, playing Pac-Man, or reciting Devo lyrics as he is scrounging power to run his OASIS rig.

And then Wade stumbles upon the first puzzle.

Suddenly the whole world is watching, and thousands of competitors join the hunt—among them certain powerful players who are willing to commit very real murder to beat Wade to this prize. Now the only way for Wade to survive and preserve everything he knows is to win. But to do so, he may have to leave behind his oh-so-perfect virtual existence and face up to life—and love—in the real world he's always been so desperate to escape.

A world at stake. A quest for the ultimate prize. Are you ready?