Posted by : Unknown
Tuesday, 29 November 2011
Heeeeey! Remember that whole
Catwoman controversy
? Everyone was upset by the gratuitous sex scene, but considering the violence portrayed earlier in the issue where Catwoman bashes a man's face in, I determined that the angry BatCat sex was indeed gratuitous, but not without context. Meanwhile, Voodoo mostly escaped the wrath of the internet since attention was so focused on Catwoman and Starfire and, since Voodoo's character was previously a stripper, her gratuitous boobage throughout issue one was not surprising nor out of character.
Catwoman? I really don't know her beyond Michelle Pfieffer and a few glimpses in the previous comics. This New 52 Catwoman is a huge change that older fans do not approve of, understandably, but I kinda like her.
I am angry and sad at the book for passing the
Bechdel Test
, only to dramatically
refrigerator
fail it an issue later, but I am still intrigued enough to continue. I want to get to know this Selina Kyle. I want to understand her violence and the blinding rage she goes into in her need for immediate revenge. Blinding? No. That's not fair. There was a lot more ticking in that brain, especially when Batman tried to stop her.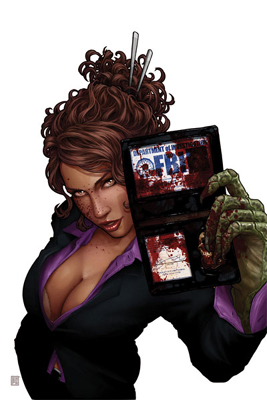 I like the changes to Voodoo as well. We previously met her as a naive girl, unaware of her powers and heritage and unable to protect herself. She grew up a lot during her run in the
WildCATs
, and it seems this new Voodoo is based on where she ended up, mentally, though her origin - or knowledge thereof - has changed. So now it's time to find out where she is going.
Where she was naive before, now she is aloof. This new Voodoo understands her powers and has a few more tricks up her sleeve. She's searching for something, and trying to protect others like her. Don't worry. Her boobs aren't always on display.
Thus far, of DC's New 52, these two books are the ones that compel me most to read them. I love the artwork and I am curious about the characters. Wonder Woman is still on my reading list too, though I'm not happy about the update to her origins. Hmmm.... I should probably add Batwoman, Batgirl and perhaps Huntress, too. Make this a theme and see how DC ends up handling these ladies in the long run....
batgirl , batwoman , boobies , catwoman , comic books , DC , huntress , new 52 , sex and violence , voodoo , wonder woman »
Catwoman and Voodoo: Sex and Violence