Posted by : Unknown
Wednesday, 10 August 2011
September choices for the LeVar's Rainbow Book Club.


Embassytown, China Miéville

Big idea: Alien life forms cohabitate a distant planet with human colonists, including Avice Benner Cho. She straddles both worlds from a unique perspective: Unable to speak the bizarre language used by the Ariekei, she functions as a "living figure of speech" for the aliens.

Sample text: "There was a Hostnest in fine alien colors tethered by creaking ropes of muscle to a stockade, that in some affectation the Hosts had fashioned like one of our weaker fences. I'd creep up on it while my friends whistled from the crossroads ... [past] breezes sculpted with nanotech particle-machines and consummate atmosphere artistry."


Machine Man, Max Barry

Big idea: Crowdsourced with reader input during 37 weeks of online postings, this nanotechnology adventure follows a man who becomes obsessed with bionic limbs after one of his legs is hacked off in a factory accident. (The Machine Man book cover will be selected by fans from one of the six illustrations shown above).

Sample text: "I spent a lot of time being jabbed by needles. Not syringes. Tiny steel slivers with embedded electrodes. The idea was to insert these into my truncated thighs so they could read signals from my brain, and translate them into motorized movements."


Mind of My Mind, Octavia E. Butler

For 4,000 years, an immortal has spread the seeds of a master race, using the downtrodden as his private breeding stock. But now a young ghetto telepath has found a way to awaken--and rule--her superhuman kind, igniting a psychic battle as she challenges her creator for her right to free her people.

About the Author: Octavia E. Butler was the first black woman to come to international prominence as a science fiction writer. Incorporating powerful, spare language and rich, well-developed characters, her work tackled race, gender, religion, poverty, power, politics, and science in a way that touched readers of all backgrounds. Butler was a towering figure in life and in her art and the world noticed; highly acclaimed by reviewers, she received numerous awards, including a MacArthur "genius" grant, both the Hugo and Nebula awards, the Langston Hughes Medal, as well as a PEN Lifetime Achievement award.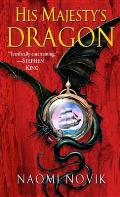 His Majesty's Dragon, Naomi Novik

In this delightful first novel, the opening salvo of a trilogy, Novik seamlessly blends fantasy into the history of the Napoleonic wars. Here be dragons, beasts that can speak and reason, bred for strength and speed and used for aerial support in battle. Each nation has its own breeds, but none are so jealously guarded as the mysterious dragons of China. Veteran Capt. Will Laurence of the British Navy is therefore taken aback after his crew captures an egg from a French ship and it hatches a Chinese dragon, which Laurence names Temeraire. When Temeraire bonds with the captain, the two leave the navy to sign on with His Majesty's sadly understaffed Aerial Corps, which takes on the French in sprawling, detailed battles that Novik renders with admirable attention to 19th-century military tactics. Though the dragons they encounter are often more fully fleshed-out than the stereotypical human characters, the author's palpable love for her subject and a story rich with international, interpersonal and internal struggles more than compensate.


Golden Witchbreed, Mary Gentle

This is the story of Lynne de Lisle Christie, the first of Earth's envoys to Oerthe, a primitive world on a planet half a galaxy from Earth. Presenting herself at the court of the Crown of the South, Christie's life quickly teeters into the hands of those motivated by beliefs, assumptions and thoughts alien and unknown. Factions in the Southland would rather that she were dead, or defamed never to return. Others feel that now that Earth has visited Oerthe, there is no way that the clock can be turned back. But all are quite wary of Earth and its technologies, and a current of hostility runs deep. As events unfold, at one point Christie finds herself among the ruins of Oerthes anchient civilization and realizes that Earth has made a very, very large mistake.


Devil's Hand, M.E. Patterson

Trent Hawkins survived a 30,000-foot fall from a jetliner and became an overnight sensation -- the Luckiest Man Alive. For years, his strange and unnatural luck made him the king of the Las Vegas poker scene.

After years on the blacklist, despised by every high roller, he finds himself returning, with his wife, Susan, to his former stomping ground, only to be caught between a serial kidnapper, vengeful angels, poker-playing demons, and a magic-wielding thirteen year-old girl who stands unwittingly at the center of a fallen angel's plot to end all of mankind in an unholy blizzard. As Las Vegas grinds to a halt, Trent is forced to make terrible sacrifices and must ultimately choose his role in the coming War, or watch our world fall to ruin beneath a blanket of shadow and ice.


Robopocalypse, Daniel H. Wilson

Daniel H. Wilson, the author of this book, has a doctorate in robotics from prestigious Carnegie Mellon and his writing credits include the nonfiction How to Survive A Robot Uprising and How to Build a Robot Army. That knowledge alone should activate your senses as you enter Robopocalypse, a realm where robots run free and humans flee skittering in many directions. Told with the unfolding menace of The Invasion of the Body Snatchers, this novel will keep you up late and your computer unplugged.


The Wood Wife, Terri Windling

Winner of five World Fantasy Awards for her editing, Windling (coeditor with Ellen Datlow of the annual Year's Best Fantasy & Horror anthologies) now shows off her writing skills with this strong first novel, a fantasy. When writer Maggie Black learns that her friend and mentor, poet Davis Cooper, has died and left her his house in the arid hills outside Tucson, Ariz., she travels there intending to write his biography and to investigate the mysterious circumstances of his death. Every detail she uncovers about Cooper's past, however, only seems to raise more questions. When Maggie comes home one evening to find that the house has been ransacked, it becomes clear that she's not the only one looking for answers. To solve the puzzle of Cooper's life and death, Maggie will have to outwit the Trickster and the other powerful quasi-human creatures that roam the desert hills and feed on creative energy. Although at times Windling's humans come off as too sensitive and artistic, her Native American spirits comprise an intriguing blend of human folklore and alien emotion. Her debut novel is richly imaginative, a captivating mix of traditional fantasy and magical realism.