Posted by : Unknown
Sunday, 3 July 2011
Day 03 - A comic that is underrated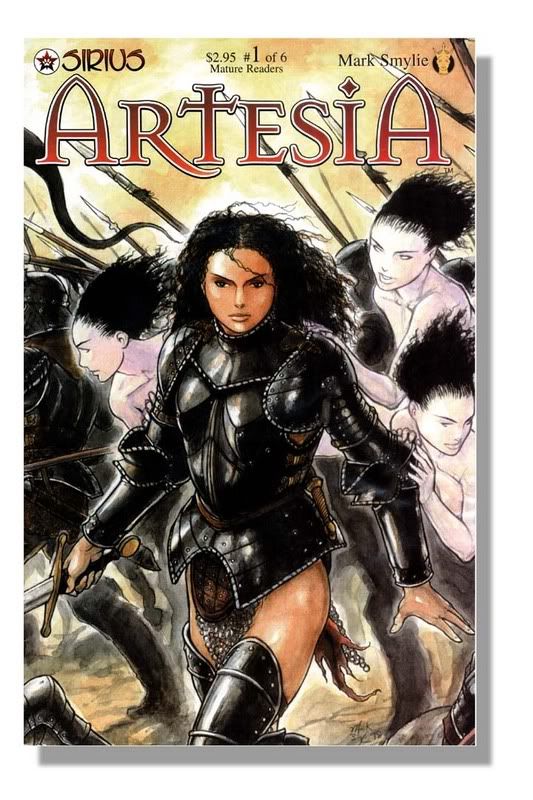 It's not so much that Artesia is underrated. The many starred reviews speak to this. However, because it is not published by the major studios, it is overlooked.

"Artesia is a far cry from any standard comic fare. There are elements of Frank Miller's 300, and the art reminds me a little of Barry Windsor-Smith, but this book doesn't rely on or pay homage to those sources. Mark Smylie creates a vivid, deeply engrossing environment even as the story unfolds in such straightforward locations as the battlefield. An entire mythological system was created and is fully explained in the glossary, as is the history of Artesia's world. As the art and theme remind one of Miller and Windsor-Smith, so does the mythology and history remind one of corresponding histories of Earth; however, Mark redefines every element of the book enough to make it both unique and completely believable." ~Sequential Tart
Artesia herself is the epitomy of Strong Female Characters
TM
. She is a woman who is not scarred by a past that includes witchery or being a king's concubine. She is respected and honoured by her peers and returns the same to those who have earned it.
The book was my first introduction to a true adult comic book. The sex and violence is not for the squeamish. But again, attesting to Artesia's strength as a character, I appreciate lack of adherance to the cliched role of strong women and sex.
"Women who rule, or who lead in military contexts, have historically often been described as either chaste (and applauded for it) or promiscuous (and condemned for it) – while in contrast I find that male political and war leaders (or other so-called male heroes) are usually applauded for their 'virility.' Most writers tend to prefer their heroines chaste, so I was intrigued by the notion of going in the opposite direction and trying to write about a woman who had a healthy (read: prodigious) appetite for sex, but in such a way that hopefully left her still sympathetic to the slightly Puritanical audience in the US. I've gotten both good and bad reactions from readers; some have found it refreshing, while others have occasionally thought that things have gone a bit far (with 'Artesia Afire' in particular)." ~Mark Smylie for CBR
I have a particular fondness for this story because it was introduced to me by the creator himself, whom I had the pleasure of spending time with many years ago and with whom I had many fun conversations. Sadly, have lost touch. :(
Day 04 - Your guilty pleasure comic or character
I've seen the original
Dirty Pair OVA
, but can't remember much of it. Possibly because those unfortunate Lovely Angels are overshadowed by the ones pictured above. I believe I picked up
Adam Warren
's
Dirty Pair
after reading his version of
Bubblegum Crisis
,
Bubblegum Crisis: Grand Mal
l, the
original BGC
being the anime that got me into anime.
Warren's current
Empowered
is described as a "super hero comedy" but Dirty Pair did it first and did it best.
The Dirty Pair also served as inspiration for
tHE AdVeNturE pAtRol
, a comic and stories created in highschool, based on the adventures of myself and my friends.
30 Day Comic Book Challenge (03 - 04)