Posted by : Unknown
Monday, 16 May 2011
My friend, a fellow Warhawk player, posted about Starhawk for PS3.

I have not had proper time to go over its details, but told my hubby about it who reported back to me that it was going to be as if Warhawk and Firefly had a really awesome baby.

I'm listening.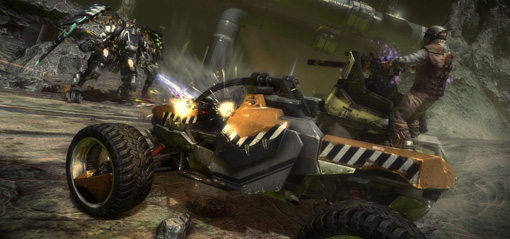 Oh yes, I'm listening.
And then:
"Our goal is always to innovate and provide fans with new, engaging experiences," said Scott A. Steinberg, Vice President, Product Marketing, SCEA. "Starhawk delivers all of this and more combining a run-and-gun gameplay style with our advanced Build & Battle system that offers new strategic options for the player while never taking them out of the action. Add to that a compelling story and robust online mode, and Starhawk will truly move the genre forward�an experience only enjoyed on PlayStation 3 that is sure to excite shooter fans and newcomers alike."
What the ... story to go along with my desire to blowshitup?


I'll probably uphold my record of sucking at actually flying a War/Starhawk, but as long as they have tanks, I will be an extremely happy girl.


Oh, FYI, be sure to search for "Starhawk PS3" as "Starhawk" alone gives you this:

"Welcome! I'm Starhawk, author of many works celebrating the Goddess movement and Earth-based, feminist spirituality. I'm a peace, environmental, and global justice activist and trainer, a permaculture designer and teacher, a Pagan and Witch. To see how it all weaves together, follow the many strands of my web."

Think I might have read her stuff ... I was probably not playing Warhawk at the time.
If Warhawk and Firefly had a baby...