Posted by : Unknown
Friday, 13 May 2011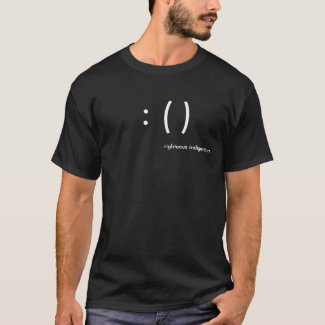 I remember when I used to stand up for things and I wanted to change the world. Well, by "the" world, I mean "my" world. I tromped petitions through my schools and stood up to my bosses and made demands and stood up for what I believed in and actually did something when I thought things were wrong! Eventually, I came to realize that all the people who said they were with me, actually weren't, because they didn't like stirring the pot.

I blame them for my subsequent apathy. Yeah! It's their fault that I lost my real life fire!

Fortunately, I have the internet. Here, I can RAGE! I can FLAIL! ( \0/ <-- flailing!). I can post about how GRRR I am about important causes and condemn the powers that be for using their powers to be! (Damn them!) When I'm wronged, I do not need to address the wrongdoer directly. I can just come and complain to my blog. If I'm really lucky, my followers will take up my cause for me and hashtag, retweet, share and like me into infamy! I don't even have to lift a finger to fight for my own cause after I've pressed the "publish" button!

The internet is such a neat place to vent your righteous fury on various topics, without ever having to really do anything about it. Thankfully, some of us are less apathetic than others. Some of us put our powers of disagreement to good use and hack Sony, mirror Wikileaks or convince SciFi that crackers do matter. Some of us even get up from in front of the computer to go that extra mile and fight even harder!

The rest of us? Well, we have so many other important things to do after we get our vents out and finally turn off the computer for the night. There's that DVR list to catch up on. That big bookshelf... napping...
Righteous Indignation from the Comfort of your Home